These amazing machines, using smart and powerful technology, look like mechanical monsters eating huge logs. In fact, they help humans with logging, taking on all the hardest and most difficult work.
Equipment Biojack 300E
The Biojack 300E is an attachment for forestry equipment that not only cuts a tree trunk with ease, but also grabs it and moves it a distance. Easy to use, this tool can be mounted on a loader or harvester. Its working principle is to firmly grip the trunk, trim it, tear off the cut piece of wood and move it. It can also work as a grapple for loading.
Biojacks is manufactured by Finnish company Nummek Oy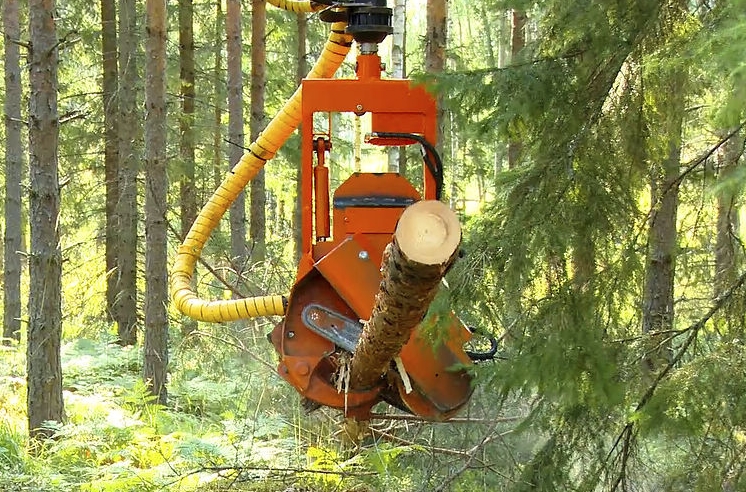 Ponsse ScorpionKing 8W Harvester
Unlike Biojacks, the Ponsse ScorpionKing is a full-fledged logging machine, which is a kind of hybrid of a forest harvester and a car crane, which knows how to treat both trees and forest turf with incredible care. Featuring an articulated chassis with a large, 655-millimeter clearance and eight 710-millimeter wide pneumatic wheels, it puts minimal pressure on the ground. This very stable and all-terrain vehicle is equipped with a swiveling operator's cabin, a 210-kilowatt engine, and an 11-meter long boom with an unusual working "head". The hydraulic equipment cuts the tree with incredible speed, grabs it with the manipulator, turning it into a horizontal position. And then, in a matter of seconds, it passes through the multimeter thick trunk of the tree, cutting off all the branches and dividing it into even logs.
The machine is manufactured by the Finnish company Ponsee.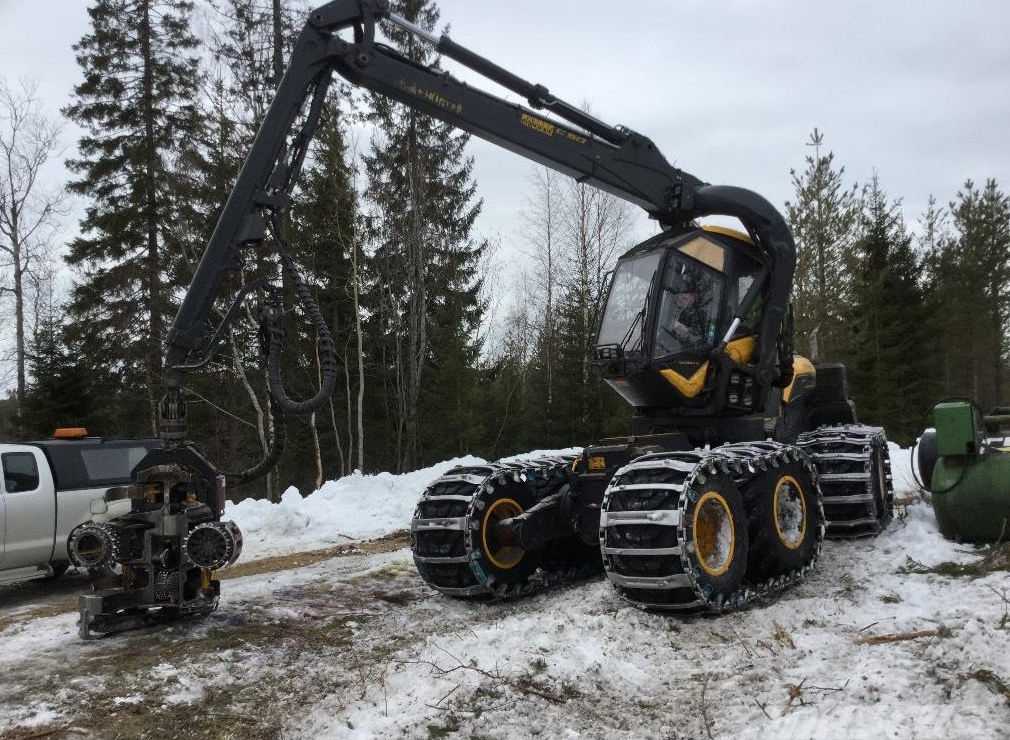 CBI ChipMax 484 Portable wood chipper
There are many wood chippers in the world. But most of them have quite limited power, and are able to process only branches of small length and thickness. But the chipper CBI ChipMax 484 Portable (now this model is called Terex TBC435) manufactured by the American company CBI can be called one of the most powerful and productive wood chippers in the world, because it can grind a whole thick log with a diameter up to 60 cm.
Having quite compact dimensions, the tracked machine is equipped with a 765-horsepower CAT C-18 engine, and the most powerful drum chipper, into which a log is fed by a conveyor. It usually includes a crane-manipulator, which throws timber into the "furnace". At the output, after grinding we get fine wood chips.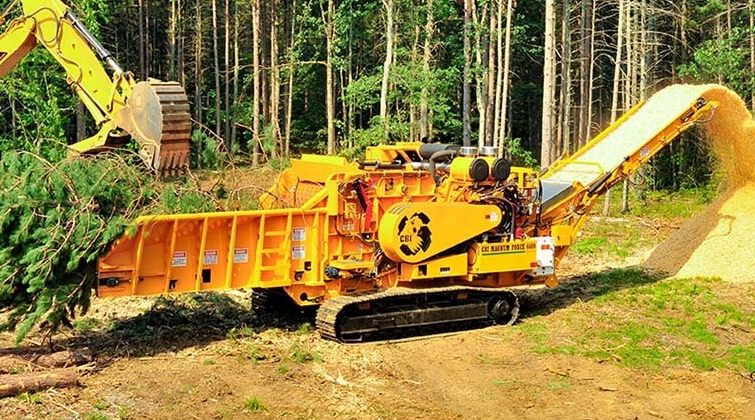 Naarva S23 Stroke Harvester
An amazing Finnish-made attachment Naarva S23 Stroke Harvester, which can be mounted on any special equipment or tractor, is a real mechanical woodchopper able to first cut the tree and then, having turned it upside down, chop wood with incredible speed and agility.
It consists, as it were, of two main working parts, in which one – advances the trunk of the tree to the cutting device, and the second – is a powerful "wood guillotine", in one movement slicing firewood, as if a knife cuts slices of sausage. The capacity of this machine is about 5 m3 of firewood per hour.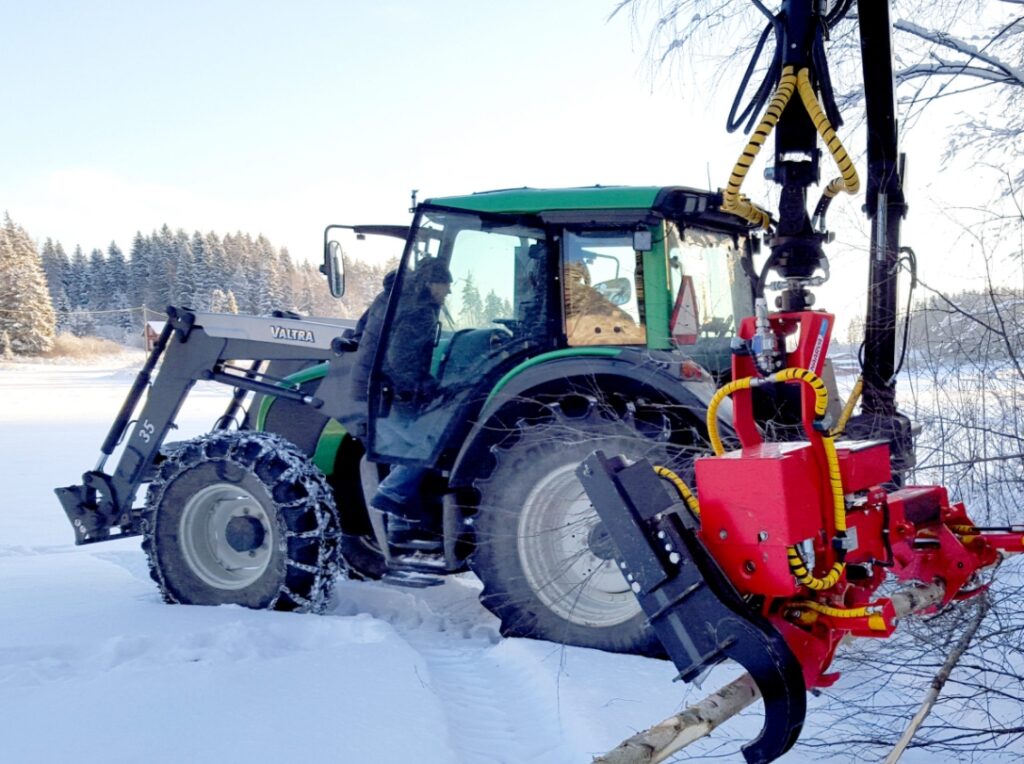 John Deere H414 Harvester Head
John Deere H414 is an unusual product of the leader in the production of agricultural machinery, which in its own way can be called the quintessence of all modern technologies used in forestry industry. This attachment seems to encapsulate all the knowledge and skills of mankind.
The compact, highly maneuverable harvester head has an excellent power-to-weight ratio. Its working principle is based on a four-wheeled feeder with four hydraulic motors. The main frame of the head is designed as a single piece, and its four moving delimbing knives, one fixed top knife, and one fixed back knife have the perfect geometry and design for handling huge logs. This sawmill can easily handle trees up to 620 mm in diameter.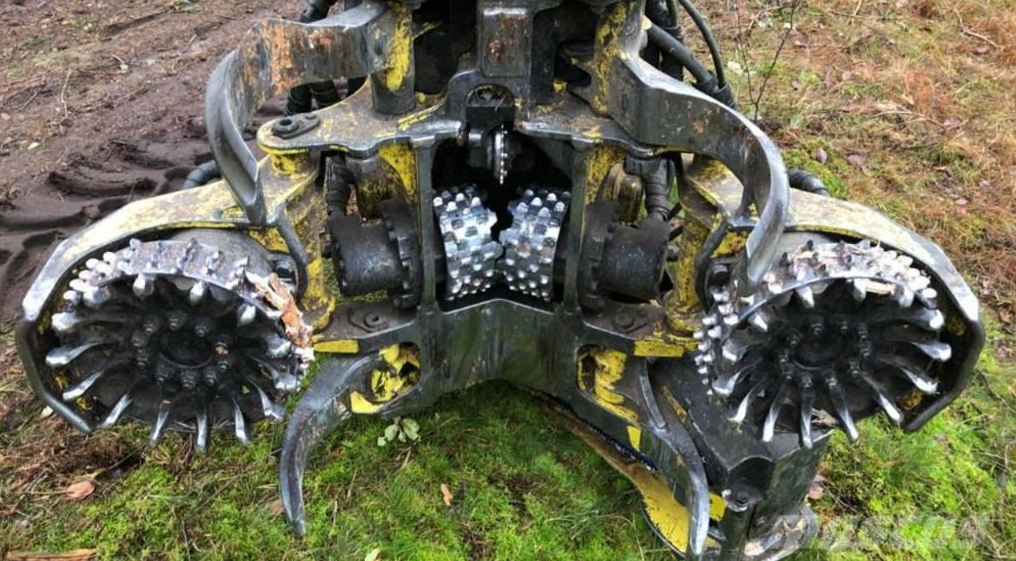 Waratah HTH624C Harvester Head
The Waratah HTH624C is not really different from other harvester heads. The big difference, however, is its ability to handle truly big trees. It's currently the most powerful head in the world, capable of logs up to 81 cm in diameter.
With its own weight of 3.5 tons, it is designed for use in solid felling and roadside processing and is equipped with a clever function for finding the end of the log, which gives incredibly accurate results. Able to cut wood, clear it of branches and limbs, and chop it into pieces.
Manufactured by Waratah, a Canadian company with a 40-year history of producing logging equipment.